Before I start today's blog, I'd like to start things off with a little promotion.  And since I'm not sure if people get all the way through these things (because I think this is going to be a long one), I'm going to put this where I know people will read it... At The Top! 
If you've been reading these, you know who Byron Kane is.  In the scope of this project, he is my engineer and Producer.  For me personally, he's one of my closest friends.  Byron is a professional audio engineer, who works in the entertainment industry along with myself.  But he is also a very talented musician with a wide band of flavors that have been hidden in the past for many years.  Many of you who are friends with me have known him the way I have.  Either as colleagues in the entertainment industry, or back in those college years within that underground electronic music scene that was happening in Orange County.  If you have not, you are in for something special.  Byron has spent the last few weeks releasing a large portion of his music catalog online (FINALLY!).  And he has some very cool stuff.  He has been in past bands like AutoTRAUMA, his own personal projects like The Auditory Research Centre and his newer projects with his daughter... "Vacation Village."  From Industrial styled music, DMT styled sound scapes, Synth driven masterpieces and even Tiki Lounge type music, BK has really filled the spectrum with unique and fantastic music.  I invite you all to check out his Soundcloud page here...
https://soundcloud.com/byron-kane-644821977
Here are a few of my favorite cuts of his...
This album drips of cool.  If you want some awesome chill Tiki music to lounge to, these are the cuts for you!  Click the image to check it out...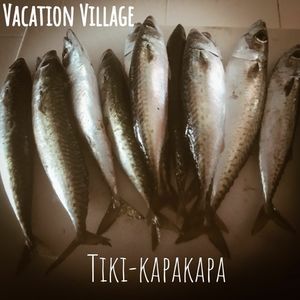 Moving on to a haunting synth scape from his Auditory Research Centre project.  I thought he had the whole album up at one point, but I think he's been working on splitting his YouTube Channels and SoundCloud accounts to different channels to make sense of his massive library of music.  BK, can comment and add any additional info, or I'll append it later.  Regardless, glad he's kept this one online..  Click the pic to listen, and subscribe to the channel!
Finally, one of the Auditory Research Centre's newest releases.  And Byron's foray into DMT music.  This track is fascinating.  You really have to listen with headphones.  From his video description:
Scientifically created DMT Music produced by The Auditory Research Centre under the guidance of K. Johnson. Pure acoustic 528Hz introduction tone. This contains binaurally encoded information and as such, playback in headphones is suggested. Additional psychoacoustic encoding is present and will still be an effective therapeutic program over stereo speakers. May the Force be with you.
Click the image to listen (You need to invest in this one, it begins simple, but evolves slowly over time, I've been meaning to tell BK how well it works as a therapeutic program)
Hope you had a chance to listen to some of BK's stuff.. And please like and subscribe to his music on the above formats for more.  He's got some new gear and is getting the music flowing at the Vacation Village.  I'm personally looking forward to hearing more of it!
Anyway... On to our regular scheduled programming...
---
Man my Mom disliked Robert Smith (maybe hated?  She didn't like using the term hate... So I won't out of respect, but I'm pretty sure she did! LOL).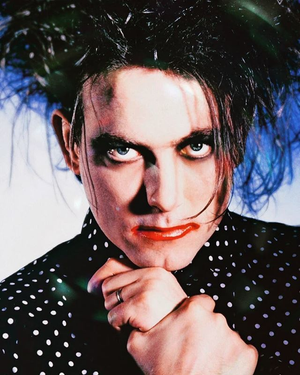 And she detested The Cure.  And she didn't like The Cure poster up on my wall.  The one from Inbetween Days, where their faces are all neon painted with a black light... She said they looked like devils.  Nor did she like the OTHER Cure poster on my wall, the one that had all their signatures, 5 men, with makeup and big hair.  And she didn't like the fact that I was wearing black all the time, and listening to the music I listened to.  My parents accused me of doing drugs, and being in gangs.  But in reality, I was just a weird kid who enjoyed the beauty in the sad melodies and thought the little Goth Rockers/Death Rockers were cool (Emo.. Kids... I guess you call it Emo?  Or not... whatever, I'm old).  It was all tied to that music.  That music that was deep, both lyrically and emotionally.  The music that wasn't straightforward in the lyrics.  It was poetic.  You had to imagine what was going on, or the situation, or whatever. Behind a barrier of metaphors and British accents, you needed to really think about what they were singing about and what they were trying to say.  And contrary to popular belief, it wasn't all sad.  It was just beautiful...  But yeah, a lot of it was sad.  
I've heard people say about the music they listened to when they were kids... "I can't believe I used to listen to that!!"  I took a break for several years from Death Rock and bands like The Cure, as my tastes progressed more into electronic music.. New Order always stood as the great bridge between Electronic Music and alternative so that I never truly left that world.  In the past 10 years or so, I've gone back to enjoying the music of my youth and still find it as powerful and impactful as it was then.  But now with an older and more seasoned ear, I'm hearing even more complexities in the music and have come to realize how brilliant they really were. So now, with my debut album finished and streaming along by those who come across it, I set my sights on to my next musical project.  My creative brain is a little fried still, as I hadn't composed that much music in a long time.  So I thought it would be fun to revisit some of the songs of my youth and try and make some covers I can throw up on YouTubez.  So please keep your eyes peeled and subscribe to my YouTube channel (click here) so you can be the first to check it out when it's released.
I'm planning on releasing a "Pop Cut" and a "Deep Cut" of some of these artists from my younger years.  The Cure and Siouxsie and the Banshees are in the lineup for sure.  I'm also toying with the idea of some sprinkling of The Smiths.  Depeche Mode would be nice... But they've really been overdone.  And done well.  I don't know.  Maybe as I progress with this project I'll decide to tackle them.  But it's going to start with the band that moved me the most... The Cure.  The Pop Cut is going to be "Lullaby," and it is nearing completion.  The Deep Cut is going to be "A Strange Day." That one is still being built, but I'm becoming more and more pleased with what I'm hearing from that track.  Will they be Lo-Fi Hip Hop?  They're having that flavor, but less so.  I don't want to lock myself completely into that genre.  But I still am loving the elements from there.  So you will definitely be hearing those flavors in these tracks.  And that is what is beginning to make them sound quite unique.  Did I pique your interest yet?
I was going to delve into the production of my first cover track, but I'm going to save it for the release.  This blog got long because I got all excited sharing Byron's music... and you know what?? Fine by me!!  I love sharing great music.  Stick around next time when I get my first cover out the door and online!
- Joda
(Blog image:  My new pedalboard and Effect Pedals)
Listen to and purchase my music here: https://linktr.ee/Masterjoda75 
Find me on FB here: https://www.facebook.com/JodaProductions 
Find me on YouTube here (subscribe): https://www.youtube.com/ 
Instagram: joda_productions