Hi everyone, it's been a bit since I gave you a Blog and some updates so here we go...  If you didn't get a chance to check out my last Blog, check it here.  I posted some great tracks from the talented Byron Kane that you should check out.
Ok, so first things first, I've just posted up my album "Pandemic Blue" as a single play video up on YouTube.  So far it's only been up as a playlist, so you had to listen to ads between songs and I'm sure that gets annoying.  With this, you should get a single continuous long play video to play in the background with less interrupting ads while you go about your business of getting work done, or studying, or whatever it is you do! YouTube plays really help me get my videos higher up on those YouTube search views.  So just playing my album on YouTube will really help me out.  If you want to really make this dude happy, you can also hit the "Like" button on the video, that does even more to help my music get more exposure.  And if you REALLY REALLY want to make a dude ecstatic (I know, I'm being dramatic)...  Hit that Subscribe button.  It will subscribe you to my channel and you'll know when I post up new material.  You can click the image below to get to my Vid (It has DINOSAURS!! That should be enough to get you to click right??).  You can jump to Jurassic Lo-Fi to see what I'm talking about..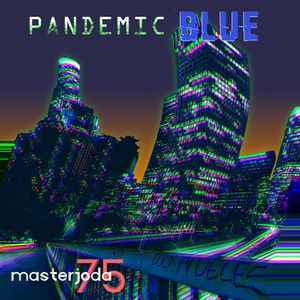 Speaking of the above YouTube post... When I was about to post it, I got a copyright notice from YouTube saying, "We will allow you to use the content, but the 'owner' will run ads on it and monetize it for themselves."  Uh... I'm the owner you morons!  So fine by me!  Lol!  This is because CD Baby posted my tracks to YouTube and they aren't tied to my channel yet.  Clowns.
---
Speaking of which, if you subscribe to my YouTube channel you should be first to know when I drop my next project that I noted on last week's blog.  The first of my series of covers of the songs of my youth, starting with The Cure.  It's taken me a while to work out the track.  I've had to do a bit of re-arranging since it is going to be an instrumental cover and if I'm not careful, it can get a little redundant without vocals.  But to keep things interesting, I'll be covering the vocals on the Kalimba!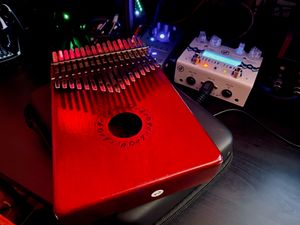 It's sounding pretty cool, but has taken time tuning the instrument to the minor key and learning the parts.  But I'm pretty close to getting ready to track it.  Can't wait to show you guys!
---
If you didn't get a chance to see it, I posted up on social media a little treat from my brother Tim; the original artwork of "The Cellist" which inspired the track "A Cello In The Street" from my album.  It's now hanging on the wall in my studio, and I'm able to gaze on it while I work.  It really is a beautiful and inspiring piece.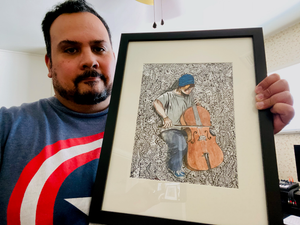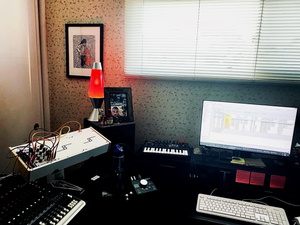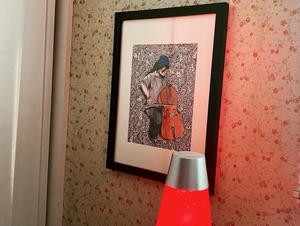 Receiving this has inspired me again to restart a project I was thinking of doing while Pandemic Blue was in production.  And that was to release "A Cello In The Street" as a single.  I'm actually going to be releasing that on a limited quantity physical medium.  Gonna keep it Lo-Fi and release it as a CASSETTE SINGLE (you heard right!).  And it will include a download code for a digital copy.  Now you may be asking, why would I want that if I already have a copy or can stream it online?  Well, this single is going to have a special B-Side.  Byron has agreed to make a special remix of the song for the single.  So if you want to hear BK's interpretation of the track, you're going to want to pick up that single when it comes out!
---
Wow!  Lots of news today and lots going on.  Hope you were able to read it all!  One final thing.  This month I am registering Masterjoda 75 as a legit business.  With that, your support getting my business off the ground would be much appreciated!  The easiest way you can do that is by purchasing my album, even though I know you can listen to it for free (heck I just gave you the link at the beginning of the blog).  But doing this will help support my business and enable me to have the tools and resources to keep bringing you fresh original music from my brain.  You can do that by clicking the "Listen and Purchase" link below.  You can also find it for purchase on iTunes and Amazon!  Thanks for reading, your support and most of all.. Thanks for listening!!!  - Joda
Listen to and purchase my music here: https://linktr.ee/Masterjoda75
Find me on FB here: https://www.facebook.com/JodaProductions  
Find me on YouTube here (subscribe): https://www.youtube.com/  
Instagram: joda_productions