Hi everyone, it's been a while since I reached out.  Still enjoying making music and picked up some new gear (I'll detail below).  Glad I'm not a professional musician.  After Pandemic Blue (my last album), my creative brain turned to mush and I was completely out of ideas.  But then I realized, this is for fun and the joy of creating music.  So I picked up new toys and have been doing miscellaneous jams.  Except now I get to drop them onto YouTube and see what people think.  
Funny how YouTube works.  I dropped a load of music when I was working on my album, and I was averaging maybe 70-80 views tops.  Then I did that YouTube vid for Blossom and that one topped out at around 400 views.  I figured that I got that amount of views because that channel has a pretty huge following of maybe 30K listeners.  Click the image to check out "Pablo" from that venture..
But then I threw up this YouTube jam I did on my Moog Subsequent 37 synth, and I have just topped over 1000 views!!!  What the heck??  Lol!  Oh Internet, you're so weird.  Anyway, I have the vids up on my site now.  So click the link below to check them out on my video page.  Under "YouTube Synth jams.."  Or you can click the movies to check them out here and read on.
https://jodaproductions.com/video
---
Gear gear gear... 
Moving into some hardcore synth talk...
I've been really embracing this whole "DAW-less" fad.  It takes me back to cracking out tunes in the 90s, when I couldn't afford a good computer and all I had was hardware.  Basically the concept is to avoid using DAW software on the computer.  For kids nowadays, this is some huge challenge.  For us Gen-Xers, that was life!  So I have a bunch of cool hardware synths, but I want them to play together without a computer.  The first thing I needed was an advanced sequencer to create tracks on.  So I picked up The Pyramid, by Squarp.  They're a small French company.  It's a boutique sequencer, but super powerful.  Here it is in action (apologies for the lousy audio quality).. (play and read on)
I'm running CV out into my Korg MS20 synth and MIDI out into my Prophet REV2 and Behringer RD6 drum machine.  It has this really cool feature called "Euclidean Sequencing."  Basically manipulating patterns using mathematical formulas.  You can hear me messing with it on the snare drums.  (If you jump to 2:40 in the vid, you can see it in action).  My hope with this gear was to generate "happy accidents" in music.  You know, that feeling when you slam a bunch of keys on the keyboard in some random way, hit the quantize command and see what you get.  Sometimes you end up with something really cool.  This sequencer does not disappoint!
Finally, I made another big purchase.  A new drum machine.  I love my Behringer RD-6 drum machine, but it kind of backs me in a corner because it's a clone of Roland's TR606 drum machine; which is a beautiful sounding drum machine.  But it really is a one trick pony.  You get the sounds you get and that's it.  You can't really tweak or mess with them.  I was looking at an 808 clone by Behringer, which gives you more editing capabilities on the drums.  But again, not only would it back me into a corner with the sound, but also with the genre.  So I jumped on the Elektron bandwagon and picked up a Syntakt.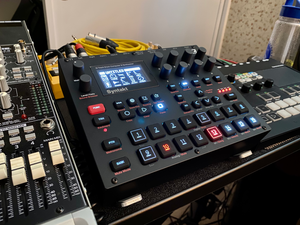 Elektron is pretty hot right now.  Their big seller is the Digitakt.  Which is a cool drum machine.  But its focus is sampling.  And I'll be honest, I'm not a huge fan of using samples.  I don't like using loops, and even sample hits are just another type of "what you get is what you get" scenario.  Ironically, Pandamic Blue has samples all over it.  But that was all I had.  I want to get a kick or snare and then tweak how I want it to sound.  Enter the Syntakt.  This thing is a straight up synth.  4 tracks of analog drums and 8 tracks of FM digital drums, all tweakable.  In fact, you can even get straight synth sounds out of it.  That FM engine is GLORIOUS.  Really gives you a modern sound, and if you want to go old school, the analog engines do the trick.  But the best part is, I'm in control.  I can make them sound how I want.  I'm working on some stuff with it, but the sound quality I have on video is terrible and the tracks are incomplete.  I'm also still learning how to use it to its full potential.  So I will have to put those up on YouTube for another time..
These are the tools that are getting my creative juices flowing again.  The best way to keep tabs on these tools and see what noise I'm coming up with right now is to subscribe to my YouTube channel here:
https://www.youtube.com/channel/UCj43agmAvP6BYmbzNy0OowA
I could use more hits/views, likes, and comments.  Even adding a "cool vid" comment, bumps me up on the algorithm so more people will see my stuff and I'm not buried with all the other noise out there.
Hey look at that...  I did another Blog!  If you've gotten this far.. Thanks for reading!
-Joda
Listen to and purchase my music here: https://linktr.ee/Masterjoda75 
Find me on FB here: https://www.facebook.com/JodaProductions 
Find me on YouTube here (subscribe): https://www.youtube.com/ 
Instagram: joda_productions