Welcome back to my Blog!  And if there are any new YouTube subscribers checking this out... A special welcome to you as well!  Thanks so much for taking the time to listen to my material I've been working on.  This project has been going on for a couple of years now and has been evolving as I learn how to take my craft into a modern era.  First, lets talk about music.. I've had a couple of synth Jams up since my last blog, and thought I would post them here for you to check out..
I've been really getting a handle on my DAWless setup and it's constantly evolving (I'll be discussing more of that down below).  So what's the purpose of these Jams?  For me, it is going to go beyond just throwing up some quick jams for people to check out.  I'm hoping that these jams will evolve into actual songs, and that the songs will eventually become my second album.  Here as an example of a Jam becoming a song.. The first clip was the Jam, and the second was the song that came from it..  "A Black and White Sky."
"A Black and White Sky" came from my debut album, "Pandemic Blue."  It was an exploration of LoFi Hip Hop vibes.  This is the album that got me back into writing music.  If you haven't checked it out, click here to listen to it on YouTube.  I'm very proud of how it came out.  So that's where I'm at musically right now.  Let's talk about gear...
---
I was thinking of picking up a hardware sampler for my DAWless setup.  I don't like Sampling, but you really can't get away from Sampling, as it adds a creative element to any production.  Had my eyes on a Roland SP404 mkII.  But then I realized, wait.. don't I have an old sampler in the garage?  An old EMU ESI-32 rackmount sampler?  It was a budget sampler from the 90s.  So I dug around and pulled it out to see what I could do with it.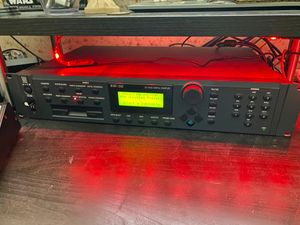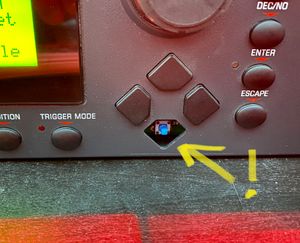 uhhh... crud!!  How did that happen???  Ok, this gear needed a little TLC.  So first I went to the good fellows at Syntaur and found me a replacement button cap.  I also found an old sample 3.5 diskette and loaded up an old sample.  And I waited... and I waited... and then I waited some more.  I forgot how flipping slow floppy drives are.  
The result?  A crappy little drum loop from the 90s... Oh man.  Can't have any of that.  So I began looking into alternative storage options.  And behold.  I found... The Floppy Drive emulator.  Uses a USB stick so you don't need to use floppies any more.  Looks impressive doesn't it?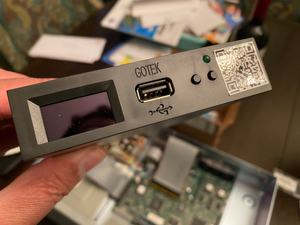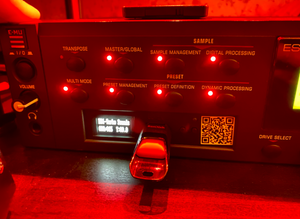 Here's the rub though... They're not kidding when they say, "floppy emulator."  That also means... FLOPPY SPEED.  No it doesn't take advantage of modern USB speeds, because it uses the same slow-@$$ floppy bus!!  All that's happening is the floppy files are saved on the emulator's USB stick drive as disk images. So you use the same file/save commands on the Sampler, and it accesses the emulator, instead of the floppy drive. Unfortunately, it also sticks to the limited 1.44 MB size limit of the data that are on floppy disks.  Anyone familiar with Samplers and floppies remember the horror of multi-disk saves and loads of large sampler data.  Well, this floppy emulator also sticks to that method.  Large files become a multi image save.  When the Sampler asks you to add a second disk for loading or saving, you switch to the next image and hit load/save.. wait and wait and wait... rinse, repeat!  Consider this a note of consideration for anyone thinking of going this route for their older hardware.  It can be a positive in that old floppy data is saved to a more robust media.  And also, good if your sampler requires a boot disk (mine does not).  However, further good news for me was that this particular device I ordered had a bunch of Samples preloaded, including some stunning orchestral samples!  So it wasn't a complete waste.  Plus, it is a selling point if I ever decided to let this guy go. 
So I was all pleased and impressed with my Floppy Emulator pictures and decided to post them up on the EMU Samplers & Software Facebook Group.  And.... I pretty much got laughed at.  And deservedly so.  Because, little to my knowledge, there is a much better alternative out there.  It's called Zulu SCSI. 
My Sampler uses old tech known as SCSI.  SCSI back then was like having Firewire or Thunderbolt on your device.  Way faster than anything at the time but notoriously finicky. I used the SCSI bus on my Sampler with a SCSI ZIP Drive (remember those??) hooked up to it.  And it worked pretty good, 100Mb of memory, and way faster than floppies.  But alas, the last time I moved, which was like 6 years ago, we were cleaning stuff up, I saw the old SCSI Zip drive and said to myself, "Why do I need this?? I have a USB Zip Drive!!"  Forgetting, it was used with the Sampler.  So like a Moran (spelled wrong on purpose).. I tossed it, and all the cables for it in the rented garbage bin...  Idiot!  So now, I've picked up a used SCSI Zip Drive from eBay to see if I can recover the samples on the Zip Disk I have.
So let's talk about Zulu SCSI.  I bought the mini version..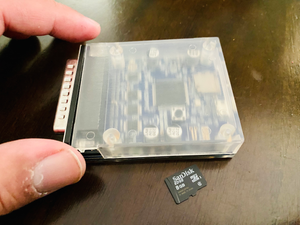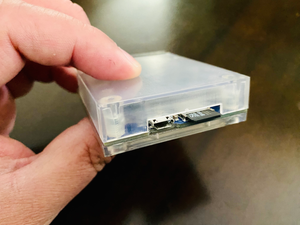 Basically what it does is allows you to use a MicroSD card on your SCSI bus.  You create blank disk images on it.  And when plugged into your SCSI port on your sampler, the sampler sees the different disk images as Hard Drives.  It's like having multiple external hard drives hooked up to your sampler.  This way you're taking care of large capacity storage and SCSI speed with your sampler.  Much easier to deal with large sample libraries.  Unfortunately, my Sampler has the old Centronics type connector in the back (I'm really taking you guys down computer memory lane, aren't I?).  So I'm still waiting for my cable and all adapters to come in to hook it all up..

Hopefully this will get me where I need to be with this Sampler and take my music to a new level.  There's one more upgrade I have my eye on.  And that will be to update the firmware on this Sampler.  The new firmware is supposed to include new filters (including the old legendary EMU Morpheus filters), and other various improvements.  However, that is something that would need to be ordered from Germany.  It's a chip upgrade, so it will require pulling old computer chips and replacing them with new ones.  What can go wrong?? :-) So the Sampler saga will continue for another blog.  Hope you guys liked reading this stuff.  Hopefully new Jams, with some Sampler-centric material in the future!
-Joda
Listen to and purchase my music here: https://linktr.ee/Masterjoda75   
Find me on FB here: https://www.facebook.com/JodaProductions   
Find me on YouTube here (subscribe): https://www.youtube.com/   
Instagram: masterjoda75