Picked myself up a Cassette Deck from eBay!  Remember that technology?  Before Streaming, before mp3s, before CDs???  I, like every other Gen-Xer had a pile of these things that we used to escape, and enjoy our music.  They were tedious, needed to be rewound, took forever to start up (at least compared to the instant start gratifications of today's mediums), and the sound quality was so so.  But they had one bonus: They were extremely easy to record on and make audio copies of whatever you wanted.  Music off the radio (remember that?), music off of other tapes, records, dictations, etc.  And most importantly, music that you created.  In my case, music that I created using the various Synthesizers that I owned throughout the years.  My early compositions that I started dabbling with after I got my first synth in 6th grade... A Yamaha PSR-36.
When I recently moved from my last house, I needed to clear a lot of clutter.  Including a lot of old cassettes.  At the time I didn't have a deck or portable walkman.  They were sold or trashed years ago in favor of the new fangled CD players!  And my old tape collection went into oblivion.  But as I started clearing tapes out, I found some of the gems I used to listen to, the leftovers that survived destruction...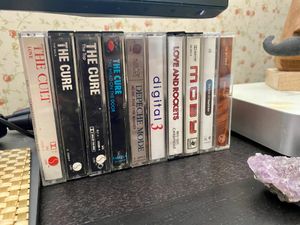 I also found many recordable, unlabeled tapes.  Apparently, labeling was for chumps!  At least that's what my Dad and I must have thought (more on that later).  So I looked through these unlabeled cassettes, and made the best call I could as to what I should hold onto and make sense of at a later date, and what was going to travel to the trash heap.  I held onto those brightly colored, totally 80s cassettes, because I was pretty sure I had recorded some stuff of mine on there, along with any other cassette that I felt may have some hidden audio treasures on it.
So here I am, 6 years later, finally digging those saved tapes out of the garage and going through them.  Of course I had to listen to my old Cure and Depeche Mode tapes first.  Those were fun...  I think I'm going to buy more tapes and play them in the background while I work. 
As I went through the pile and started listening, I discovered a couple of interesting things.  First, is what I am dubbing, "The Cassette Wars" between myself and my Father.  My Dad and I had a tendency to grab whatever cassette tape was lying around and start recording whatever we wanted to at the time without bothering to check if the tape had any content on it, because you know... WE DIDN'T LABEL ANYTHING!!!  But even if we did, it didn't matter.  Because if that tape was in the deck (we only had one), it was ripe for hitting record on, no matter what!  You see, I was quite excited to see that I still had my band's second album release on cassette (it had the label on it!).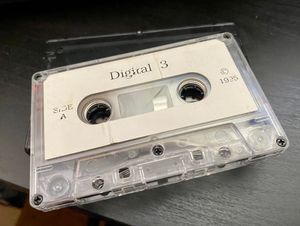 So I popped it in, ready to revisit memory lane.... NOPE!  Someone (my Father), recorded some weird tribal stuff on Side A of the tape (my Dad had some far out tastes at times). Pretty much overriding about half the album with whatever that stuff was.  And no, don't ask why, but the tabs weren't punched out of the cassettes!  Oh well, so much for that.  Apparently, I returned the favor.  I found another cassette that had several early compositions of mine.  So I was enjoying (and cringing), listening to those for a bit and after maybe the 4th song there was a "XZrrrrrrp!" and all of a sudden some classical type opera music started playing for the rest of the tape.  Yes, apparently I had also recorded over one of my Dad's tapes... Good times.  I found these instances on several other cassettes.  Content recorded over content, whether it was my synth and New Wave stuff, or my Dad's Classical and Opera stuff.  Something was overwritten over something else.  Why we didn't buy more recordable media or label stuff is beyond me.  That was us.  I miss my Father.  It doesn't bother me now.  Because it's just who we were and our dynamic when I was growing up.
Finally, along with the above mentioned tape, I found a few other tapes that contained early compositions of mine.  I remember locking myself away in one of the empty halls of our church after service was over, while my parents were hanging out doing whatever "potluck" or social churchy event, and firing up the church sound system, hooking my keyboard up, and playing my "stuff."  I would record these sessions for later listening and critiquing...  It was all pretty crappy.  But it reminded me that writing music was in my soul.  It was that love of music that was in me as a young 11 year old with a keyboard.  It was through this that one of the church elders happened to poke his head in and caught me "jamming."  But instead of getting mad, he asked me to play a special for church.  Which I obliged to.  I just did some synth version of a hymn.  But that got me started getting involved and playing for church.  Anything so I could play my keyboards.  Yeah... what a geek.  But when you have a passion, it's hard pressed to ever really leave you.  These old cassettes reminded me of that.  Because I'm still writing, and I'm still recording.  And enjoying every minute of it.
---
Speaking of passions, let's talk about the present.  My album is still coming along.  We're close to finishing up mixing "A Black and White Sky."  And I have 2 more songs that are ready for Byron and mixdown at Vacation Village.  What happened to "A Cello In The Street" you say?  It will be released along with the Album.  However, you have an opportunity to be part of that early release, because I have something special planned.  And it indeed has to do with our friend the cassette tape.  In the spirit of learning things, I'm going to release "A Cello In The Street" as an exclusive single, with "A Black and White Sky" as the B-side.  B-Side?  Why a B-Side?  Because these are going to be given away as Cassette Tapes, with a special download code for the digital copy.  You may not have a deck, but having a cool little cassette single should be a fun keepsake.  Blank cassettes are ready, just finishing up the artwork for the labels and sleeves.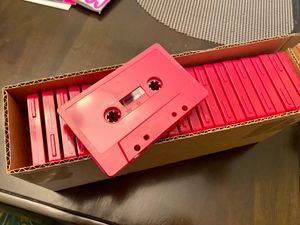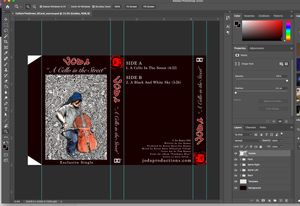 This will be a limited run, and will be released after the album is finished.
-Joda 
Find me on FB here: https://www.facebook.com/JodaProductions  
Find me on YouTube here (subscribe): https://www.youtube.com/channel/UCj43agmAvP6BYmbzNy0OowA  
Soundcloud: https://soundcloud.com/joe-ramos-7  
Twitter: https://twitter.com/JodaToGo
Instagram: joda_productions