You can say it all started a couple of years ago.  Before this music, before this website, before the idea even.  A street performer, flexing his craft on the Veteran's Pier in Long Beach.  And there was my Brother, Tim.  Capturing the moment with his camera. A subject for him to sketch and create art from.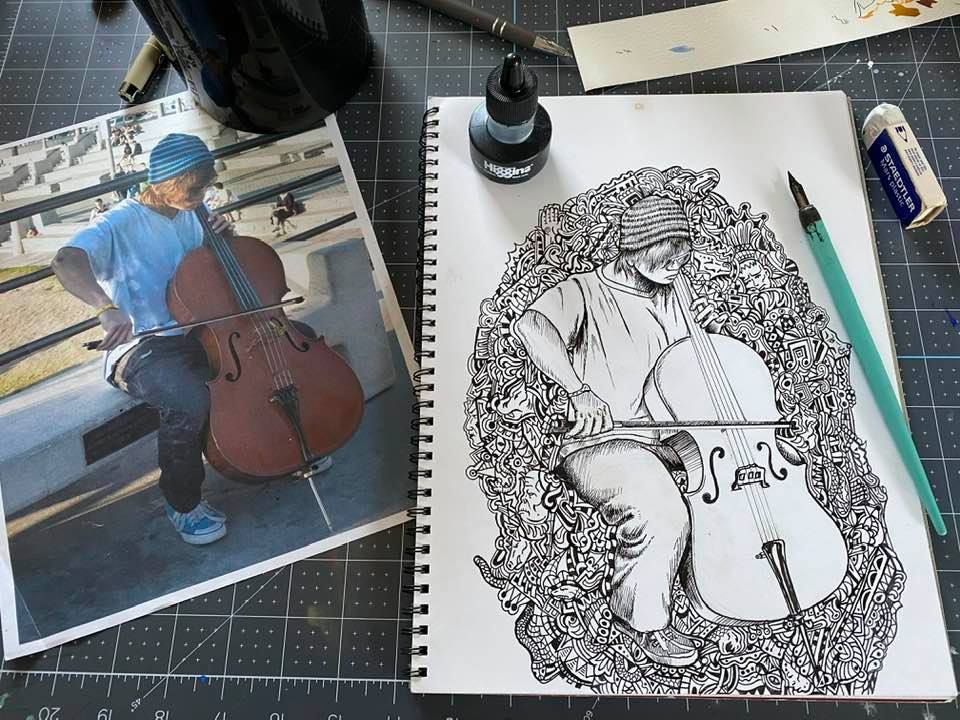 But let's go even further back...
I've always been proud of the fact that I come from an artistic family.  It started with my Dad (at least as far as I know).  In many ways, he wasn't your typical Hispanic Father.  Loved art, with art books all over the house and unfinished and finished wood working, sketches and paintings in the garage.  Loved Music.  But not just any music.  He loved Classical Music, he loved the Opera.  He also had an ear for German music, which I remember him playing Saturday mornings from the garage.  I can still hear the scratchy deep voice of radio host Tibor Hall ending his phrases with, "....in Pasadena" in that thick German accent.  Furthermore, my father was himself a fantastic artist.  Whether it be painting, sketching, or any other medium that tickled his fancy!  And he shared this love with all of us.  My Mother would probably not call herself an artist.  But she is.  An exceptional pianist, who played for church and accompanied several church Cantatas. Through them came my oldest brother Tim, an accomplished artist, who worked for Walt Disney studios for many years.  And through my brothers and sisters, new generations of artists came about.  And through them I am now witnessing even newer generations of little artists beginning to bud, including my own children.  This blessing, which has been passed down through each generation seems to get richer and more talented.  And don't get me started on my extended family, because there's talent dripping from my relatives in Arizona as well.
When my brother Tim completed this particular piece, he posted it up a few weeks ago on Facebook.  The image captured my imagination.  I've always loved the deep resonant sound of the cello.  I wish I knew an actual cellist.  But I've always needed to rely on synthesizers to duplicate the sound.  Sure one could have used a Sampler to get that sound to be as realistic as possible.  But back in the day, owning a Sampler wasn't cheap.  We had a nice Akai S1000 sampler at my college synthesizer lab that could do the trick.  Of course, that piece of hardware would have set you back $10,000 back in the day.  Yes... you read right... 10,000 DOLLARS!   It's like... hmmmm... Car or Sampler???  Since then technology has progressed exponentially.  Now I own one of the most powerful samplers in the world.  It's a piece of software that runs on my computer: Native Instruments Kontakt.  Hundreds of times more powerful than that Akai sampler, and it costs well under a thousand dollars. 
The next trick was finding a nice set of cello samples to play.  Several years back, someone had painstakingly sampled an orchestra and all their instruments.  The Sonatina Symphonic Orchestra collection.  I think it's still out there for free.  If you're a musician, I highly recommend it.  Many useful samples of orchestra instruments.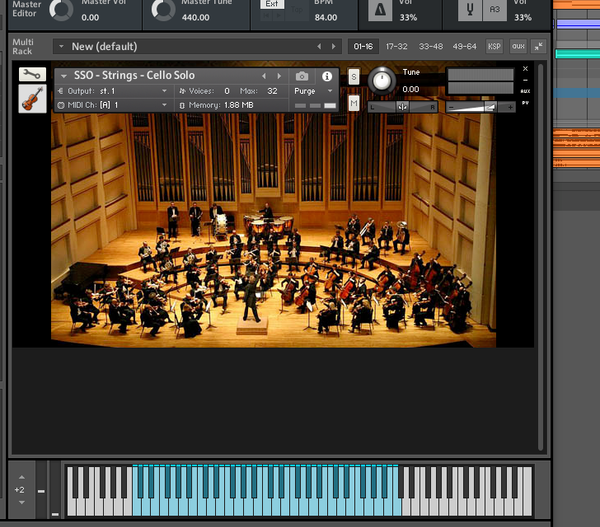 Using those samples I was able to make custom patches with Kontakt.  They're even voiced to the range of each instrument. 
I love being inspired from other people's work.  Especially their art.  I was surprised how quickly I was able to get this one written out and then sequenced on my DAW.  I even got playful about how each section of the song was mapped out and named.  Information that was only shared between myself and my engineer/producer Byron.  Sections with titles like, "Playing In The Street" and "Playing In The Park."  These are both the sections in the song that have the Cello Solo.  When I send over production notes to Byron, it's important to map out the song in sections, so we can better identify the locations where notes need to be made and addressed (with time codes of course).  I'll also try and give him some artistic or inspirational line to try and set the mood of where I want the song to go or what I was envisioning while I was writing whatever piece.  In this case, I gave him this description:
"The grittiness and dirtiness of Los Angeles and Hollywood, cut through with the beauty of a musician and his Cello."
This was what I was feeling when I wrote the piece.  It was what I envisioned when I saw my brother Tim's art.  I'm not sure if I will release this tune as a single or if I will wait for it to be released with the album.  I'll be sending my Bro an advanced copy regardless.  He has since sent me a digital copy of the original work, which you can see below.  And he also told me he had another special treat for me.  He's going to frame the original work and give it to me.  That really meant a lot to me.   I have miscellaneous pieces of art hanging around my house that both my Father and my Brother have done.  Glad to have another one to hang on the wall. Guess we all know who's getting a free copy of my album when it comes out, eh??
Finally, take a good look at the piece below.  I feel he really captured the essence and the detail of the artist in this piece.  Enough to move me.  Also take note of all of the intricate designs around the main subject.  So much detail.  You can really get lost in it for hours.  I hope you enjoy it as much as I have.
-Joda
UPDATE (11/27/2021): Since this Blog has posted, "Cello In The Street" has been released.  Check it out here:
Find me on FB here: https://www.facebook.com/JodaProductions 
Find me on YouTube here (subscribe): https://www.youtube.com/channel/UCj43agmAvP6BYmbzNy0OowA 
Soundcloud: https://soundcloud.com/joe-ramos-7 
Twitter: https://twitter.com/JodaToGo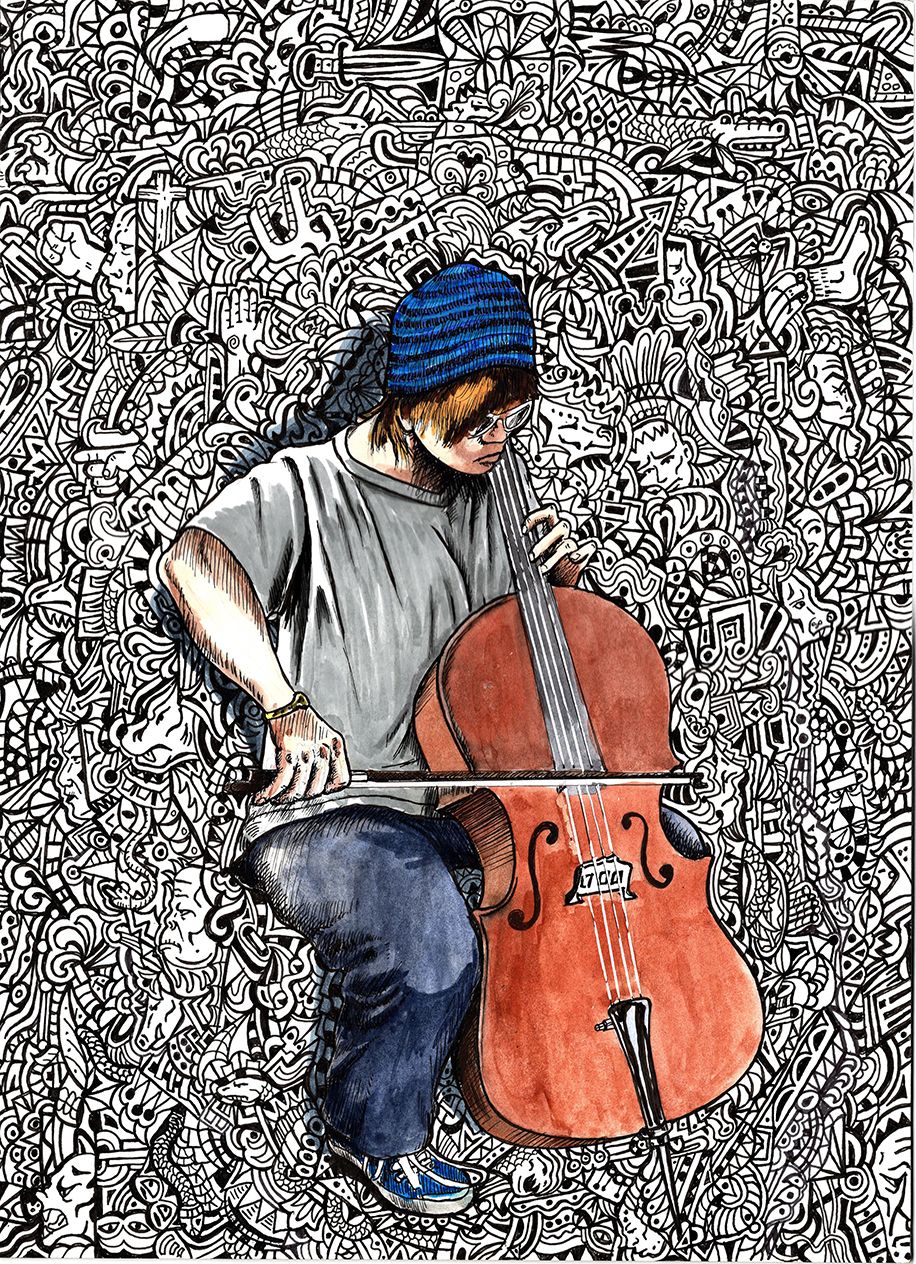 Artwork by Tim Ramos
Used with Permission