I remember being a kid in a band in the 90s was quite the affair... especially when you had no money.  Sometimes it would start with one guy wanting to start a band because he got an instrument for Christmas, another member had a nice guitar, but didn't know how to play, the drummer has a drum set and the bass player promises he'll get a bass from his parents at some point.  So if your said band reached that point and you were able to form something coherent, you started working stuff out at whoever's house; shirts off, sweating and making gloriously loud ear numbing noise!  ...as someone's girlfriend looked on.  So you've got a few originals and a couple of covers, and you're ready to do a show.  You have to let people know.  So you find the best artist in the band, you take your band group shot, you slap that pic on that sweet sweet flier they made, and hit up Kinko's to make yourself about a hundred copies to pass out at school..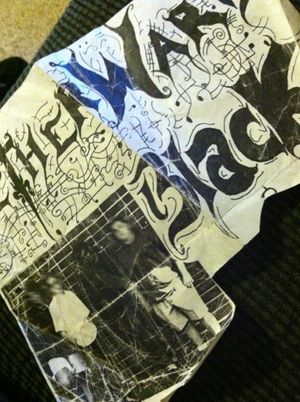 You play a show, make some noise, and hopefully everyone thinks you're as rad as you think you are.  That's your marketing.  As you get older and start to get more serious.  You start playing more shows with other bands.  Maybe it's time to record an album, find a studio, or if you're lucky, your college music studio.  CDs were still an extremely expensive luxury at this point, so a cassette album it is.  Everyone had to chip in to have cassette copies made.  Maybe you had an artist in the family who could make a super sweet J-Card for you. The first time seeing your picture and name on a J-Card of any type makes you feel legit.  Once again, you have to rely on that grind.  Play some shows, get a crowd who digs your stuff.  Play with other bands.  Learn the hard way that when a band tells you something like, "You're the headliner."  That means you'll be playing last at 3 in the morning, after everyone bailed, or stumbled home... finally playing for the owner of the club who feels sorry for you, his wife, and that girlfriend of whoever (true story).
So you do your shows, you get your gigs.  People are starting to notice..  Time to start a mailing list, and send out newsletters.  Let people know what's going on with the band, upcoming shows, upcoming albums, etc.  Make it a one sheet to keep people's attention.  Point them to that local write up about your stuff from the college paper.  In the end, you're maybe hitting 50 or so people.  I know, anyone can come on here and say they hit more.  But that's really the average.  Unless you start really grinding and touring.  But maybe heading out of state is a one or two time affair.  In the end, people have school, work, life.  And eventually, for many bands, it fades.  For one of my bands, it was the tragic loss of a band member.  We tried to keep it up, but in the end... It was too hard. 
Enter the 21st Century.  I want to make some music, and I need an audience and some potential fans.  No problem, I have several social platforms to pull from.. Facebook, Twitter, Instagram (etc).  Asking people to come check out my new project.  But what are they going to look at? I haven't even released any material.  I have a phone with a built in photo and video camera!  I can take pics of my gear.  Video/Audio snippets of what I'm working on.  And wait for those "Likes" that show me people are engaging.  I need a home base.  Somewhere that gives people a virtual J-Card, my kinkos, my selling station, my little nook dedicated to my project.  Bandzoogle gives an artist EVERYTHING they need.  Blogs, music stores, places for pics and video, places to sign people up on mailing lists, newsletter templates, analytics to see who's visiting, domain name registration.  Everything I need to get me off the ground.  And when the music comes out... In all theory, I'll (hopefully) have some ears ready to listen.  No need to grind, I can do it while sitting at my computer, ready to point people to YouTube, Soundcloud, Spotify or all the other mediums out there to distribute my music.  It's pretty amazing. Makes me wish this was around when I was grinding the beat in the 90s..  But.. Maybe I wouldn't have met as many fine and wonderful people as I did, miss out on the experiences I had, and the absolutely exhilarating feeling of playing for people and seeing them feel your music.  Now, it's only a hope that that's what's happening on the other side of the fiber, as you put your craft out there and hope you move some souls.  I hope my stuff can do that, because that's why I'm doing this.  I don't want to be a rock star, or be rich, or "make it big."  I just want to share my music with people.  Beats to study and relax to!
P.S.  A quick note.. The cover pic of me playing bass back in the 90's. My current mixer/producer Byron Kane engineered that show!

- Joda
---
True-ism
For those who make the noise and enjoy talking tech..
Once again BK (Byron Kane) and I are hammering out another track.  But the more stuff we do together the less iterations we go through before it's no longer ironing out glaring issues (all artistic of course, his skills are bar none) and move down to the nit picks.  Which is good, because now we can mess around and experiment.  BK, definitely wants to approach each track differently, doesn't want us pulling the same trick twice.  So this time he pulled out his bass head and pumped the drums through there and his vintage tube preamp; overloading the tubes to really warm and fatten up that sound.  I have samples I'm pulling from, but we want to change the tone, so it isn't obvious that I'm either recycling tones, or what Sample CD I grabbed the goods from.  Check out my latest promo on YouTube to hear those drums in action.  You can click here to get there quick!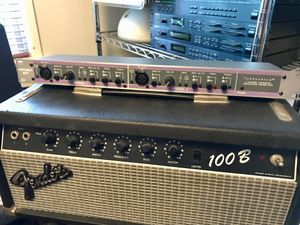 I'm also trying new stuff on the writing end of things.  For the past few tracks I've been relying on bass from my Korg MS20 mini.  That synth is PHATT.  It's pretty easy to pull up some nice and thick bass tones.  But for this track, I went to one of my more advanced plugins, OMNISPHERE 2.  This is probably one of the most powerful synths in the world.  With endless sounds to play with and edit.  It's a sound designer and sound tracker's dream!  Not only does it use standard waveforms, but it also uses some weird sampled instruments as the foundations for some of those patches.  Then they'll top it off by mixing it with some classic synth or whatever, pump it through some amazing effects, and you never know what's coming out of the speaker.  In this case my bass is based on a patch from Omnisphere that uses a Chinese violin called an Erhu as its foundation.  Not sure if the sound was designed to be a bass, but it really did the trick and gave me a very unique sound.  I love when I stumble onto patches that really inspire you and get your creative juices flowing.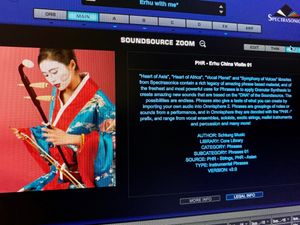 BK also acquired another little toy to add to his collection.  A vintage Roland S-50 Sampling keyboard.  He currently owns an S-550 rack mount version of the sampler, but has been pining for the S-50 for that sweet key bed action.  BK is quite particular in regards to the gear he uses, and is quite fond of using vintage gear to get his unique sounds.  And it has been quite beneficial to the style and tone I'm going for on my tracks.  The S-50 and S-550 are pretty cool (see below for pics).  You can attach a monitor to them to really dive deep to edit your samples. Furthermore the low bitrate, gives that old school character to whatever you sample on it. We're still on the first half of this mixing session.  Hoping to add an additional surprise to this track, but I may set aside a whole blog for that.  After I release these first 3 tracks: True-ism, Jurassic Lo-Fi, and Pandemic Blue. I'm going to go back into creative mode and start working on songwriting and arranging again.  But for now, it's mixing and promoting.  As I said before, just want some ears to be there to listen to my stuff.  Take it easy until next time...
-Joda