My album in production, "Pandemic Blue" is an expression of this Pandemic.  The time to reflect, think and create.  But it is also an expression of the absolute pain in the @$$ hell we are going through.  Wearing masks, being isolated, social distancing, losing a sense of freedom, arguing, being afraid, losing friends, losing family, seeing friends sick, seeing friend's loved ones sick, seeing friends die, seeing friend's loved ones die.  And seeing no end to it in site!  Does your life tick any of those boxes?  Does your life tick all of those boxes?  ....I'm sorry.
Confliction is pain... It's not a song to study and relax to.  It's a song that delves deep into frustration and sorrow.  It's ugly and it's sad, yet somehow beautiful?  At least to me.  I guess I'm biased.  I did create it after all.  I was going to be very specific about what's been annoying me about what we're going through on this planet.  Not the United States... This PLANET!  But there's plenty of that on social media.  Why add to that noise with words that are like everyone else's words?  It's not like we think for ourselves (oops, did I write that out loud?). So take this song instead.  Something that isn't an opinion or a fact, it's just a song.  A lens into my emotions.  Both what I take from the inside and what I see on the outside.
This session was a real eye opener for me.  Especially in regards to my working relationship with Byron.  He gets me, when it comes to my music.  He has always encouraged me through his enthusiasm and careful craft he has applied to this project.  When I hear a section of my music and I get a lump in my throat, that's something special.  To many engineers it's a job.  But for Byron, I feel his work is truly art that is enhancing everything I do.  And any opportunity I get, I'm going to talk up his skills and craft.
And now, I give you... Confliction (click the image below).  Feel free to read on after you listen for some Tech Talk about the production.
---
Tech Talk..
According to Byron, he used a "sh!t ton" of plugins on this mix.  Perhaps the most plugins he's ever used on anything.  This was a tough mix.  Not technically, Byron can handle anything I throw at him.  But the trick was him understanding where I wanted the song to be emotionally.  He needed to somehow take these instruments to the next level and put them in, not as a recording, but as an expression.  All while communicating via emailed notes and not in person sessions like, "The good old days."  Oh will they ever come back?? Anyway, behold, the software arsenal used to mix this song...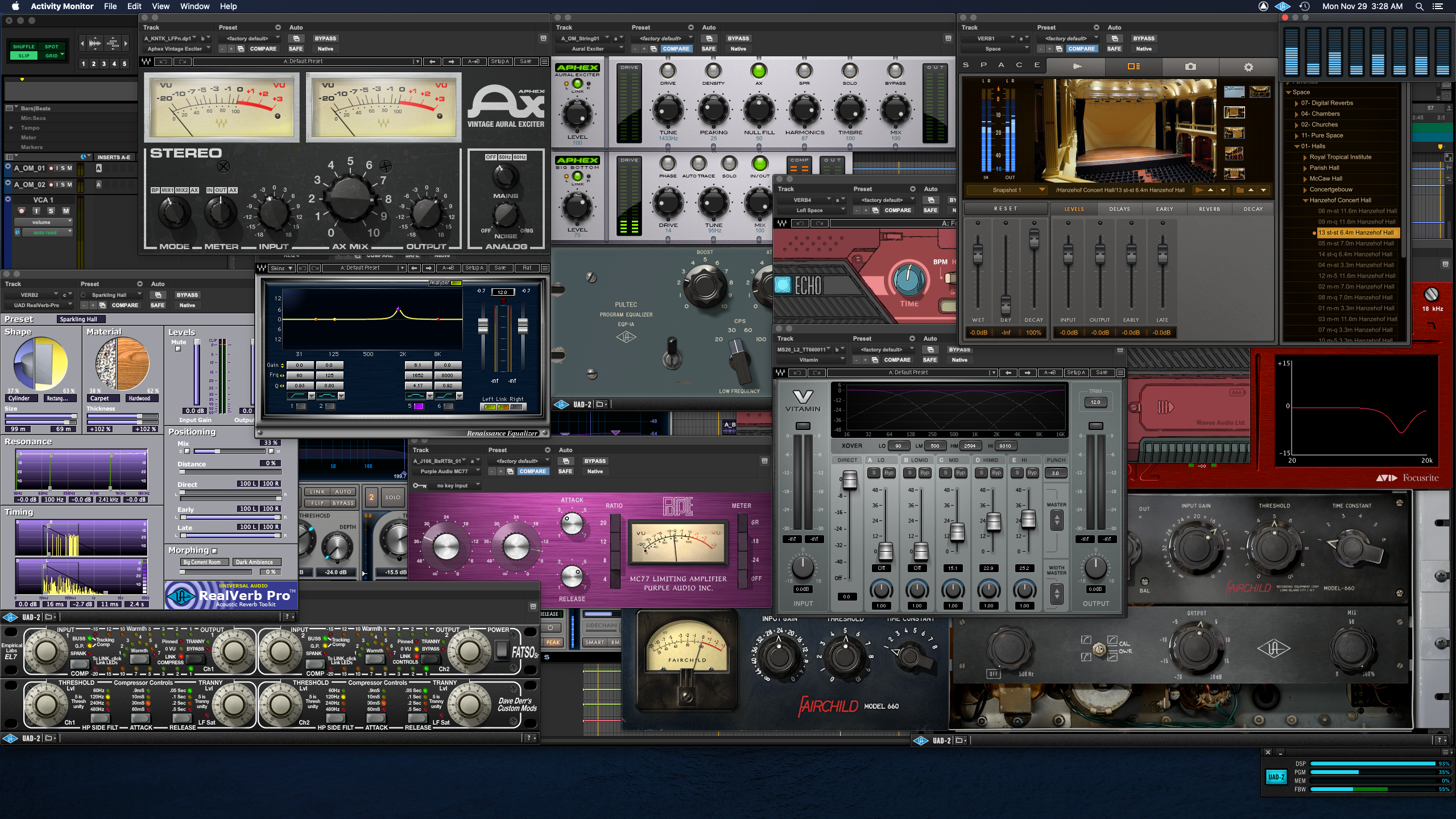 A key instrument was used for this.  The Korg MS-20 mini, analog synthesizer.  You will hear this as the high pitched "whistling" type instrument that plays throughout the song (ie. the synth lead).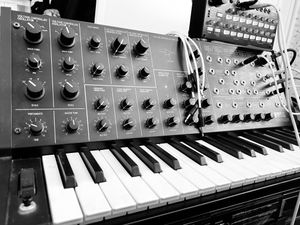 Here's the rub, how do you make an instrument that is monophonic (you can't play more than one note at a time on it), non velocity sensitive (all the notes play at the same volume no matter how hard the keys are pressed), and hissy and noisy, an expressive instrument?  Through studio magic? Or in this case Byron Kane and his tools at Vacation Village.  And boy did he use the tools to coax what I wanted out of this mini beast..  According to Byron, the MS-20 was recorded onto cassette tape using Aphex 107 tubes (2 passes) & an Alesis 3630 compressor. Mind you, this is all outboard gear (hardware).  That's not even including the above massive array of plugins that were used for this song.
The signal chain:
MS-20 > Aphex 107 > Alesis 3630 > Aphex 107 > Tascam 302 tape deck (using Maxell XLII cassette tape) 
The results?  When I heard it, I knew it.  It was the expression I was looking for.  Especially when the Lead and Lo Fi piano are duetting off of each other during the softer passage in the mix.  Did you hear it?  Maybe only I hear that stuff.  I don't know.  
Find me on FB here: https://www.facebook.com/JodaProductions    
Find me on YouTube here (subscribe): https://www.youtube.com/    
Soundcloud: https://soundcloud.com/ 
Twitter: https://twitter.com/JodaToGo  
Instagram: joda_productions