Is it really over?  Did it really happen?  Did we actually get this cut done?  Have you ever been at work and faced a mountain of jobs to do that seemed endless, and then next thing you know you're done with it?  And you're not sure how you got it all done? 
I received a beast of Sax work from Frank Fontaine (see my last Blog to hear all about my friend Frank).  4 takes of sax jamming throughout my latest song, True-ism.  Some really golden material.  But sonically, it blew away what I had been dealing with in the controlled, digital world of synths, computers  and sequencers.  I was dealing with something alive, with breaths, and whines, and nuanced transients that can be heard within a whisper.  So I now needed to take it, edit it, forge it, make it coherent to the vision of what the song was going to be.  My computer whined and protested at me working with 24 bit 96K HD audio. Of course it didn't help that I had my buffers set low at 512k (whoops!), moved it up to 2500K and my computer was a little happier again, but still didn't like what I was throwing at it.  I wasn't sure how it was going to be pulled off.  My edits were ugly, but the vision was there.  My producer/engineer, Byron (BK) was going to have his hands full.  And indeed he did.  But he took it and began to apply some magic.  First was bringing in a couple of tools he picked up recently.  Some very awesome effects from the 90s.  The Roland Space Delay and Space Reverb.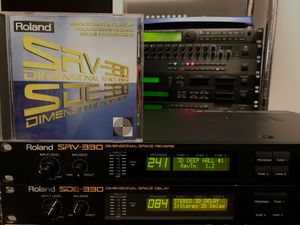 It was through these that the newly created "Sax Solo" section came alive.  But it was no easy task.  Oh sure, the technicalities of getting the tools to work and applying them are the easy part.  It's the creativity that becomes a challenge.  How do we preserve Frank's artistry in his playing, along with defining the moment in the track.  It's easy to just slap a bunch of high end reverb and echoes on something and call it a day.  it takes more discipline to know when to pull back.  To make sure the effects compliment the player or the piece; not be the centerpiece of the show.  There's a time and place for that too.  But we didn't want that here.  We want the listener to be transported somewhere.  To feel in their soul what is going on.  Furthermore, if it were just my stuff alone, and it sounded crappy... well, it's my stuff and my art that was going to be crap.  But now I felt responsible. I wanted to make sure that we did my bro Frank right.  I wanted him to love this as well, and not regret giving his time and talents to our project.  I knew with BK, we were all in good hands.  Once again, he took my direction, and gave me what I wanted.  Even when what I wanted, didn't sound good at all.  It took a few apologies of, "Dude, I know I said X, but yeah, scrap that, it sounds terrible... Sorry man."  Thankfully, he's patient.  He just needed to be sure that we were on the same page, when many times, I was illiterate.  You can see in our little text snippet to your right, the type of conversations we were having,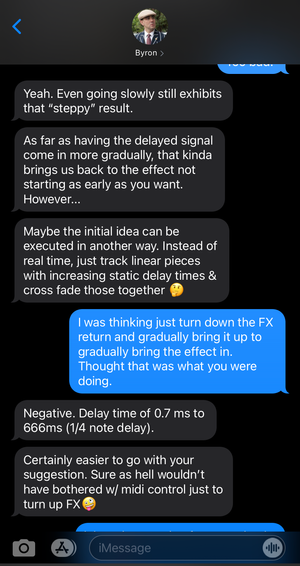 even discussing delay (echo) timing, because every point was critical to pull off the results we wanted.  Every point and every mix, we were getting closer and closer, but somehow it felt beyond reach.  Until finally, I shot him a text, "Dude... Can we zoom?"  And through that, I was able to explain the final piece of the puzzle to get us on track.  It would have been difficult through text.  Mind you, if there wasn't a stinkin' pandemic going on, I would be over at The Vacation Village, and we would be working all this out in real time; face to face and ear to ear.  But we're at, where we're at!  So then... Where we at???  After our Zoom sesh, we were a couple of iterations and a quick A/B comparison to "The Magic."  I was quite pleased with what I was hearing.  But we're going to sit on this for a few days, give a few more listens, check on different mediums... From high end Event monitors, to 2.1 channel TV sound bars, Car Audio, apple ear buds, wireless earbuds, Sony MDR7506 Professional headphones, everything.  If anything comes up, well then here comes version 1.6.  Once we're happy, then it's back to the reel deck to run off some masters, and you'll all finally be able to listen to my collaboration with Frank Fontaine, produced by Byron Kane!
---
So let's talk about some gear happenings.  A couple of weeks ago, my very old audio interface finally took a dive and stopped working properly.  It already had a bad channel on it.  So it was time to buy a new one.  But I liked the one I had, a MOTU Ultralite MK3 Hybrid.  And all of MOTU's latest offerings were lacking in Audio I/O or interfacing (USB/Thunderbolt, etc).  At least, for the price I was looking at.  Less than a thousand dollars please!! Luckily, Amazon still had a few of those MK3s in stock, so I picked up a replacement a few weeks back.  So what happens??  MOTU, this week, introduces a brand new version of the MK3... THE MK5!  Of... flippin' course!!!  Never fails.  And of course, it has all the features I want and need, but you know... BETTER!  Luckily, Amazon has a superb return program.  So I returned my MK3, and picked me up a nice shiny new MK5.  Sure is nice!
I've been doing more and more, dawless style synth creating also.  This is where you make the music without using a computer.  Keep you eyes out for late nights jams.  I usually release some of my creations on my FB group or on YouTube.  If you haven't seen the latest, check it out: 
Why not use the computer?  A couple of reasons... First, it makes creating music a little more challenging, you really have to learn the gear and figure out how all the instruments are going to talk to each other and sync up.  As a result, once something cool is heard, it's a little more satisfying if it came about "the hard way!"  Second, I'm usually jamming after work... After 8+ hours of staring at a computer, it's nice to just twiddle knobs on hardware and just use your ears and give your eyes a rest.  Anyway, see below for my cool little "dawless" setup.  Hoping to pick up some effects pedals and stuff to add to that sound...  If you've gone this far without being bored.. Thanks!  - Joda
Find me on FB here: https://www.facebook.com/JodaProductions
Find me on YouTube here (subscribe): https://www.youtube.com/channel/UCj43agmAvP6BYmbzNy0OowA
Soundcloud: https://soundcloud.com/joe-ramos-7
Twitter: https://twitter.com/JodaToGo