Sometimes as a creator, you kind of fantasize about your work a little.  Maybe it will make it big...  Maybe people will love it a lot... Maybe you'll make some money off of it.  You fantasize about gear...  Man, look at that Moog 1 synthesizer, maybe I can buy that someday.  Sure it might cost about the same as a small car, but maybe I'll make enough money with my music that I can afford it?  Well, this also includes working with people.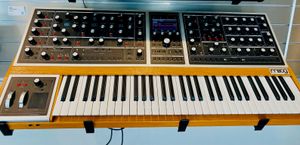 The first was the thought of working with my longtime friend Byron.  A little nervous to ask him about it.  And thankful in his graciousness in being involved with this project.  But there was someone else from my past.  Someone who I had kind of thought of.  And just thinking, well some day, wouldn't that be something.  This guy is busy.  Like, Byron, he's a professional.  He's played with some very recognizable faces, and has played at some very recognizable places.  I started playing with this Cat when he was just a young buck.  The cover on my Blog says it all!  But this Dude has skills.  There's a reason he's where he's at.  It was like one year we were in band together in high school, school ended, summer happened, then the next year he show's up with these amazing playing chops!  And after that, it just never stopped.  He just kept getting better and better.  You can hear the passion in his music whenever he plays.  We kind of lost touch a little.  You know, life goes on.  Next thing you know, social media happens, and you find out what everyone's been up to.  Well, there he is, Frank Fontaine, still blowing his horn and now playing behind or in front of some pretty big names in the business. I couldn't be more proud of the guy I used to play with.  Taking off way passed where any of us were.  It was great reconnecting with him.  Fast forward to the present, and me thinking... Hmmmm.... But I needed to ground myself... Nah, this is just a little project for fun.  I just want to get onto the LoFi Hip Hop channel.  Frank's too busy for this stuff.  And this stuff is definitely not on par with what he's been working on.  So, went back to my biz and start posting some samples up.  Next thing you know, first post by Frank... "Dude, if you need anything.. I'm here!"  You wouldn't believe how far on the floor my jaw dropped. Awesome!!
So now here we are, getting through production of my 3rd track,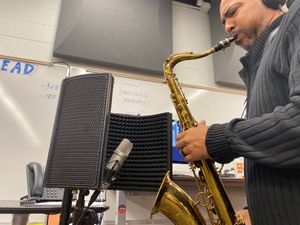 "True-ism," with Frank's recorded tracks sitting in my DAW, as I arrange them and get them ready to pass them on to be forged in Byron's hands.  Again, very grateful, not just for the many talented friends that I have, but the graciousness that they have given me by sharing their talents on this project.  Just makes it even more fun and challenging to work on.  I definitely hope you guys give it a listen when it comes out.  Because Frank has set these tracks on fire!!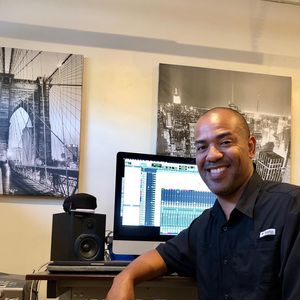 ---
Speaking of tracks, hoping everyone has had a chance to listen to my two released tracks, "Jurassic Lo-Fi" and "Pandemic Blue."  If not, click the links below or check them out under the "music" section of my website.  After this third release, "True-ism," I'm going to be moving out of mixing and marketing mode and get back into creative mode.  The three are compete ideas, but I have a few scratches out there that need to be worked out.  This means less, audio/video posts and less blogging.  Unless I'm inspired to do so.  For those of you who have followed my Facebook Page, Visited my YouTube Channel, and come to check out my website, Thank you! It has meant a lot to me. Thanks for letting me share.  And thanks for listening.  Hoping to lay down more tracks so we can get an album done.  
If you're reading this and haven't had a chance, I would really appreciate a "Like" on any of my YouTube videos and a Subscription to my channel.  I won't spam you or anything.  It just boosts my search numbers so I can get up front when people search for Lo-Fi Music.  You can get to my YouTube channel here:
Also, don't forget to like me on Facebook (Click Here) and follow me on Instagram (Click Here)
Finally, all my tracks are also posted on SoundCloud.  They are higher quality than what is posted everywhere else... (Click Here)
Once again, hoping to get "True-ism" out soon, so keep your eyes out on any of the above platforms.  I'll see you guys next time.
-Joda