Pablo Navarro.  He stuck around. We go through life and people come and people go.  Sometimes we don't realize how much of an influence people have on our lives until they suddenly disappear.  Navarro was my band director in high school.  We had already gone through two band directors when he showed up.  One used to spit a lot, the other would get mad and throw chairs.  They were both all right,  but they only stuck around for a year.  So we never got to know them well.  Navarro stuck around for several years.  And he was a good guy.  He taught kids music and the love for music.  He was a family man, and a man of God.  This past year I heard the news, he was severely sick with Covid.  And then, before we all knew it, he lost his battle.  I was stunned.  I knew this guy.  It hit really close to home.  At that point I hadn't really known anyone who died from it.  I went to my room, sat behind my synth and played my emotions for a few bars, recorded it and left it.  And it sat for a month or so.  I didn't think it was going to make its way onto this album.  It was too personal.  But I kept going back to it, and I kept adding to it.  Then I decided... I'm going to pull out my band instrument and play on it.  I played the flute in band.  And as the song started coming together I noticed something...  This song, I wrote it when I was sad, but it wasn't depressing sounding.  It was a song that had hope.  Sometimes the notes steer you that way.  You play what works, you play what's in your heart.  It's almost like these phantom chords and melodies in your soul that you can almost hear and then you try and connect them into the physical world through your instrument.  That's how I feel when I write stuff sometimes.
I'll be honest, though I knew Navarro, as his student.  I didn't know him that well.  Not personally, not after the bell rang.  Or when the concert was over.  Or after the parade.  But it was long enough to have an influence on me.  And something was in there that sparked a song.  I hadn't seen him or talked to him since the 90s.  But I can't sit and deny the impact he had on my life.  That speaks volumes to what kind of person this guy was.  He truly was someone special. And I know I'm not the only one who he influenced.
I decided I'm going to limit a little bit how I release this song.  It will be in the album, but I'm not going to make it a single that goes on to YouTube.  It's too personal.  If you're reading this.  You get to hear it now.  Check it out on Soundcloud below (click the image).  Then hit that back button to read on..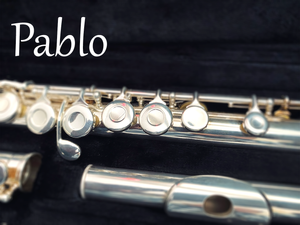 I want to give some shout outs to some musicians who have influenced me in my life personally.  They are people who have had some impact in my musical journey both as teachers, friends, and colleagues.  Apologies if I've left anyone out..
Jack Gilpatrick, Craig Sirikavit (RIP), Byron Kane, James Kosako, Pablo Navarro (RIP), Dr. Dave Nelson, Helen Fischer, Phil Santillan, Bill Benedict (RIP), Nick Urazoff, Jim Wilson, Fonz Garcia, Dave Woods, Frank Fontaine, Andy Leonette, Michael Fash, Mark Morales, Junior Macadangdang, Albert Ybarra
And for my beloved fellow flautists..  Recording this song made me think of you and all the good times we had together..
Sherry Ann Rice, Naomi Florea Buda, Emily Rojo Padilla, Jessica Hernandez, Xitlali Mota, Araceli Campos, Gena Arriola-Salas, Ericka Llerena, Lucia Zepeda-Feregrino, David Enevoldsen, Greg la Heist, Jessica Bueno Gheen, Sherry Moore-White
---
Next Steps...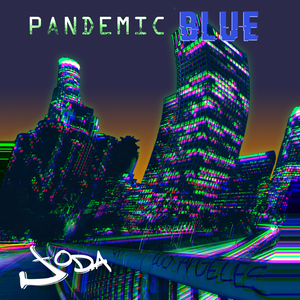 Pablo is the last song for Pandemic Blue.  This has been one of the most satisfying projects I've ever worked on.  A collection of music that I was able to compose and become my first solo album.  An inspiration from an event that will go down in history.  Dealing with a worldwide Pandemic.  What are the next steps??  My goal when I first started this was to try to get this album or portions of this album onto LoFi Girl's YouTube Channel.  I've actually had a couple of offers from other YouTube streamers, both legitimate and spam.  But I want to focus on my goal.  There's a good chance it won't pan out.  I'm just an underdog at this point.  My followers on my pages are few and far between.  If that doesn't work out, then I'll pursue some of these other offers and see what that's all about.  And if those suck, then I'll do it myself.  Once my stuff is copyrighted, I'll release the album and be getting it on Spotify and all the other music platforms out there.  But I needed this entire album finished.  That way I can copyright it as an album and not the songs individually, as it is cheaper that way.
In the meantime, I've been releasing short video promos on Facebook and Instagram of some of the songs from Pandemic Blue.  Hope you have been enjoying them.  There's some other projects in the works related to this album, so Byron and I will be working on that.  Until next time...
-Joda 
Find me on FB here: https://www.facebook.com/JodaProductions  
Find me on YouTube here (subscribe): https://www.youtube.com/  
Soundcloud: https://soundcloud.com/  
Twitter: https://twitter.com/JodaToGo  
Instagram: joda_productions