I've been a musician for many years.  And have done many projects.  I've been playing piano since I was 7.  Sequencing and playing around with keyboards since I was in 6th grade.  Decades ago!  Someone special told me something once that really hit me:  You like getting into different things, and usually it lasts maybe 3 or 4 years, then you go back to music for a few years, then you do something else.  It hit me because in the end... I always go back to music.  It's who I am.  Doing Electronic Music, playing in bands, playing for church, playing for school.  Always different eras and types of music.  Why Lo-Fi Hip Hop?  It's been connecting with me.  I enjoy listening to "Chilled Cow's" channel that plays a variety of Lo-Fi Hip Hop.  I listen during work, while I walk, in the car.  I want to be part of that.  I want to express myself again, through that medium.  I want my tracks on Chilled Cow's channel!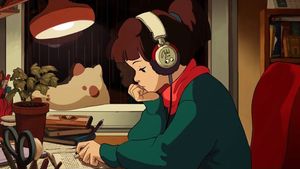 Or any other Lo-Fi channel for that matter!  So I started writing stuff last year.  But I wasn't too pleased with it and put it aside.  Then the Pandemic hit!  And we were all inside.  Stuffed up... bored...  restless... worried... annoyed...  So I started taking walks, riding my bike.  I decided during a walk I wanted to do this.  But I knew I couldn't do it alone.  I'm comfortable composing and writing.  But not mixing.  At least not to where I want to hear it.  And definitely not to the standards where I can present it to the public.  I needed help.  One of my best friends, Byron Kane came to mind.  But what if he's too busy?  Or doesn't want to deal with it.  This guy is a professional.  I've worked with him before, but not for my own solo project, and that was years ago.  Well, maybe he can just do quick mixes for me... Just so it doesn't sound like mud in the car!  So I mustered up the courage and asked him.  Not only did he say yes, but once I started telling him what my idea was, he started throwing out ideas and suggestions to give me that "Lo-Fi" sound.  Gave me some hip hop tracks that he had admired in the past.  Mind you, as a musician himself, he is definitely working on projects that have NOTHING to do with hip hop.  But I know he has a diverse tastes in music.  So it wasn't totally surprising.  He's like me, we know a good sound and vibe and can enjoy listening to it.  Alright buddy, let's get to work then..
---
When I started building tracks, I was using Lo-Fi emulators and samples to get that sound: Record noise, plugs, added distortion to my Electric Pianos, using my noise analog synth.  Etc... Etc... I hand the first track over to BK to work out at his Vacation Village Studios and what does he do?  Pulls out the old gear.  Tape Decks, Record Players, vintage exciters, the works.  He proceeds to then run my drum tracks through his tape deck with the deck's built in Dolby Noise reduction and completely TRANSFORMS the sound!  Then he takes that and runs it back into Pro Tools and really starts messing with it sonically.  I want record noise for that Lo-Fi Hip Hop sound? No problem, he pulls out his old Vinyl cut of Star Wars and we use the record noise from that!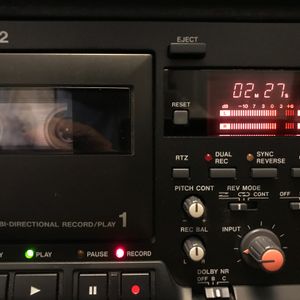 He starts hammering away on this tune like a crazy black smith, and for each cut, he sends me revision after revision and we begin to mold and shape this first track.  We also begin to learn each other during these first takes.  I give notes and he begins to understand what it is I want.  Each note, he nails it.  Each sonic request I have he mixes it where it needs to be.  Each creative idea, he tries out.  Even if we know it might not make the final cut.  I was amazed at his skill.  And so happy for his enthusiasm.  We're both having a lot of fun working on this project.  Check out the pic below for our mix iterations!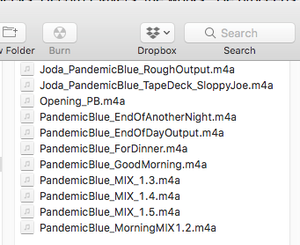 We have 2 tracks mixed and ready to go, but we have one more trick to get some more authenticity out of this sound!  Byron's boss at his work at Wildwoods Studios has a nice Tascam BR-20T Reel to Reel tape deck.  So Byron suggested us laying these masters down to tape and getting our boogie on with the deck.  So I picked us up a 1/4" reel and we're going to lay these suckers down!  Should give us that final sweet finishing touch for these tracks.  There's been a lot of back and forth between us and a lot of cool pics in the process.  So I wanted to journal this process with all of you out there.  If you're a tech head or synth nerd, or want to wax poetic.. This is the place to be.  I'll be doing more of these as we progress and get this album going.  Hope you join us for the ride!  - Joda