I have been having a blast digging into my old Sampler and bringing it up to spec for the 21st Century!  
Greetings, and welcome to my Blog, where I discuss my music and the gear that makes my music happen.  Today I'm going to go backwards.  Usually I start with the art and then I talk tech.  Today I'm starting with tech, then showing you after what I'm doing with it.  
Last time I mentioned digging up my old Sampler from the 90s to see if I can use it and save myself a little money from having to buy a new Sampler (click here to check out my previous blog).  So far it has been a success.  But it's not like there hasn't been any challenges.  You see, I decided to upgrade the firmware on my Sampler, with the promise of more filters and other feature sets.  But in order to do this, you needed to crack it open and replace a couple of actual computer chips on the Sampler's motherboard (no software firmware for this beast!).  Well, I found them, but they were only sold from Germany.  And at 30 bucks I couldn't resist.  They finally came in earlier this week after a month of shipping, so I was ready to do some surgery.  Thought I would document the process for a YouTube upload.  Let's just say, things didn't completely go according to plan.  Check out what I mean in the video I published… (for a good laugh).  Read on after you check it out.
As you can see, luckily, things worked out ok. But it was pretty terrifying at the time.  I really thought I destroyed that chip socket.  And that would have been the end of that!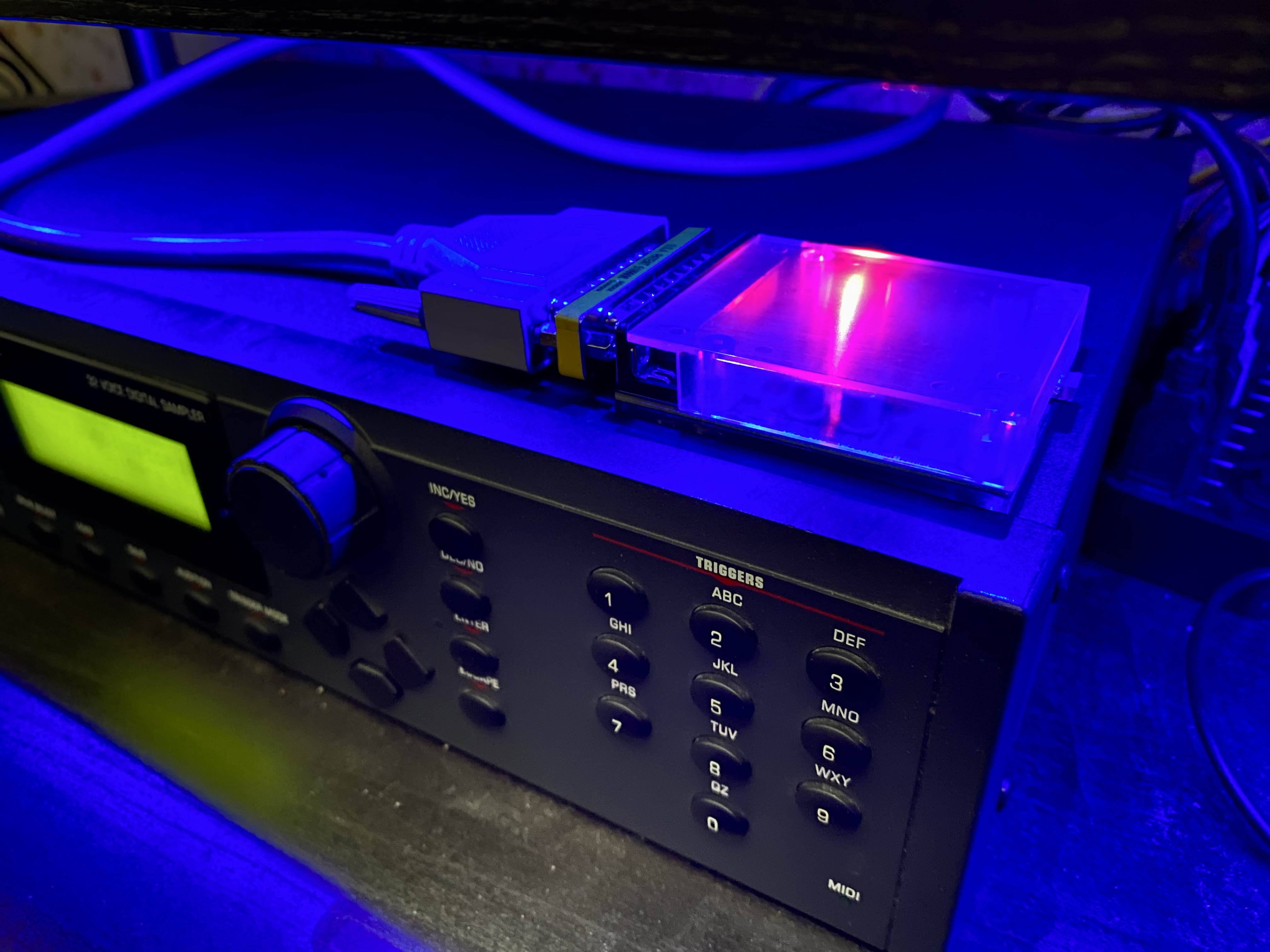 I also mentioned picking up the Zulu SCSI converter in my last post, so I can use MicroSD cards for sample storage.  I finally got all the components and it has been working like an absolute charm!  Tons of storage and the save/load times are ridiculously fast compared to the old floppy speeds!  If anyone out there is using an old Sampler that requires SCSI, I highly recommend it!
However, I still needed to access some old tech.  I mentioned that I picked up a used SCSI Zip drive from eBay to see if I could access a Zip Disc full of Sample Data I had.  Well, little did I realize that this particular model of Zip Drive needed a special proprietary cable to get it to work properly.  So I couldn't use a standard SCSI cable.  So there I was spending weeks scouring eBay to see on the off chance someone would be selling that blue cable alone.  And finally, I found one for a reasonable price.  So I picked it up to check out if I had any long lost treasures.  And wouldn't you know, I had about 30 banks of Samples.  Mostly one shot loops and stuff, but I did find some interesting tidbits.  One of which was some vocal samples I did for a project that was done many moons ago.  It was the music for a claymation animated short called, "Bathtub Bully."  I did some nondescript voice work on it and sampled it up to trigger at the appropriate moments.  It did end up winning an award, and I tried to see if I could find the video anywhere online.  But no luck.  I also found some useable samples that I will hopefully be using in upcoming projects.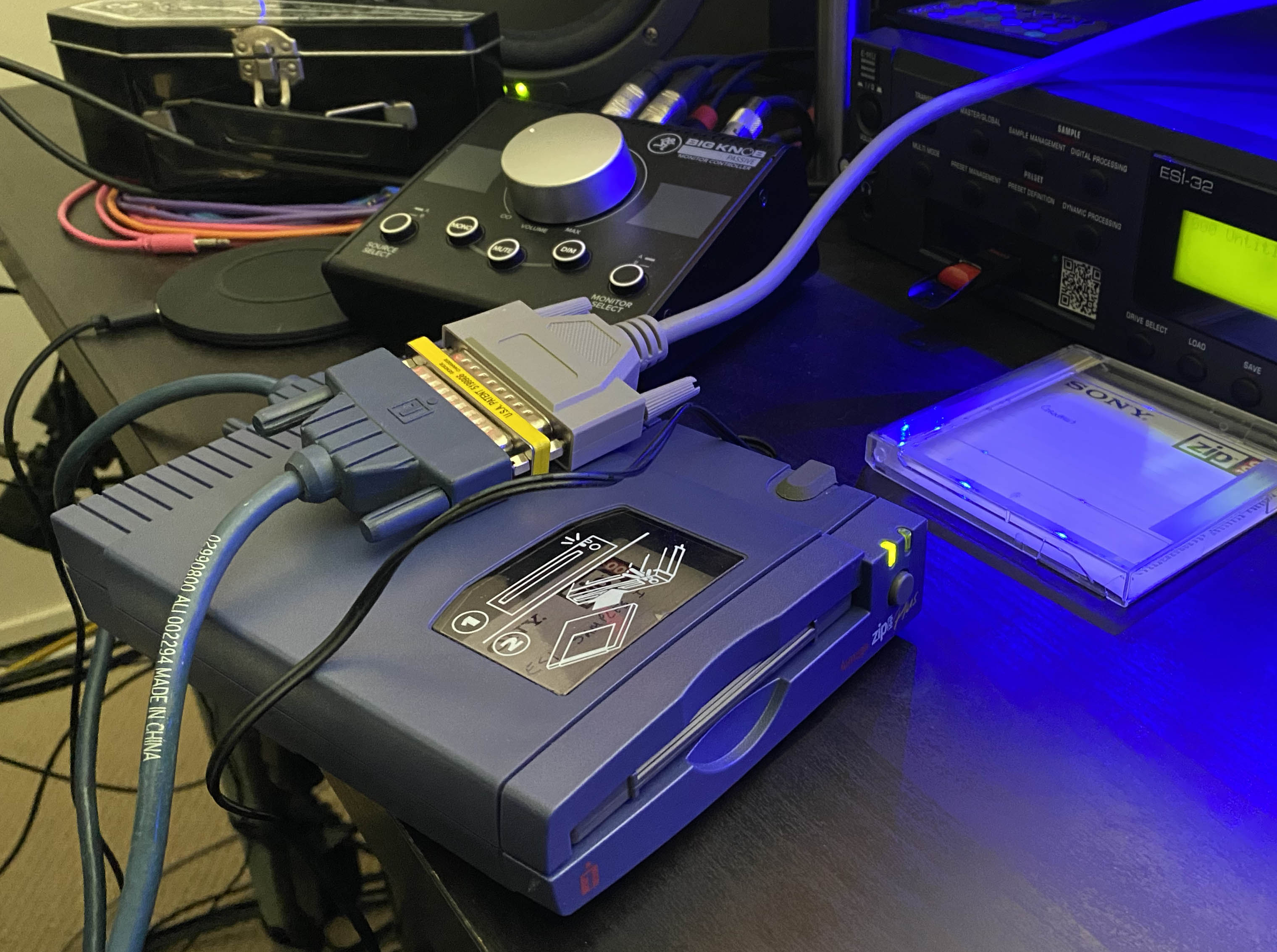 At this point, I would say this hardware is good to go!  One fo the biggest benefits of this old school sampler is the polyphony.  The newer Samplers seem to be designed for one shots and loops.  So many are only monophonic. But this sampler has 32 voices of polyphony.  Meaning I can also uses it for sampling synths, and playing it as an instrument.  Now with the new filters, should be fun coming up with some cool sound design concepts.  Check out the next section to hear this Sampler in action!
---
Out the door I started Sampling some stuff even before the updates.  I happened to be creating this pretty good track around the same time that one of the Facebook groups I follow, Hardware Jams, was having their weekly weekend challenge.  Where they throw out a theme, and ask their users to submit content to see who wins.  That week the theme was "Bass."  Basically, what sick tracks can you create with some serious bass.  Boy did I have the track for them.  And the star of the show was my Sampler.  Check it out below… (I suggest using headphones or good speakers, to really feel that bass)
The bass line was used with the MS20, but the opening chime riff (some people say it sounds like a doorbell) and some of the drums are all my Sampler.  Love the vibe this Sampler gives.  And something about the sound really gives it a warmth the computer doesn't offer.  Just my opinion. But I can't wait to use it for more stuff.  
Needless to say, I didn't win.  But the host of the show had many kind words about the track.  Calling it… Sexy!  Lol! Awesome!  Just real cool getting my tracks out to an audience.  And I did get several votes.  So that was encouraging.  And that's what it's all about.  Getting my music out to others to enjoy.
Anyway, I think that's it for now.  Hoping to get some tracks out soon.  If you haven't already, please subscribe to my YouTube channel, so you know when my new stuff comes out.  You can also visit my video page on this site, to see what I've been doing musically.  Until next time, take it easy! 
-Joda
Listen to and purchase my music here: https://linktr.ee/Masterjoda75   
Find me on FB here: https://www.facebook.com/JodaProductions   
Find me on YouTube here (subscribe): https://www.youtube.com/   
Instagram: masterjoda75